Potatoes are perhaps the most popular garden crop among Russian summer residents. In order to get good large tubers, the owners of suburban areas often have to put in just a huge amount of physical effort. You can make it easier to grow potatoes in the country by using the MTZ walk-behind tractor. Attachments, aggregated with this technique, there are many on the market. Therefore, if you wish, you can use a walk-behind tractor not only for actually plowing a plot for potatoes. Very often, this technique is also used, for example, to collect grown tubers in the fall.
What is the design of the potato digger for the MTZ walk-behind tractor
Many companies produce similar equipment today. Some types of potato diggers are used only for large tractors. Other types of similar equipment can be aggregated with small walk-behind tractors. Most often, potato diggers are hung on such country equipment: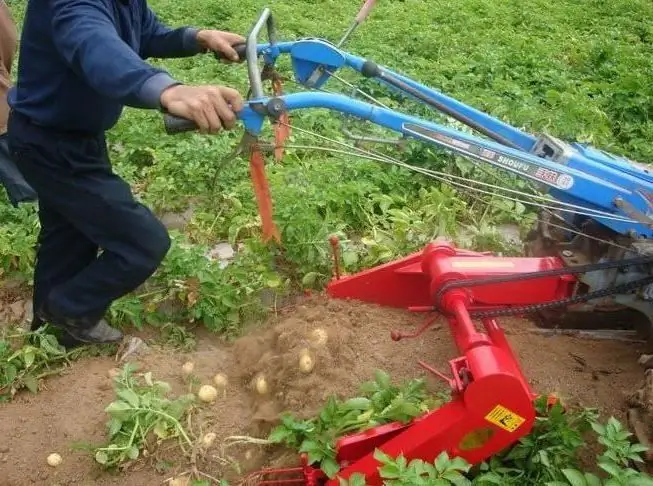 Design features and principle of operation of simple models
The rod potato digger for the MTZ walk-behind tractor in its appearance resembles an ordinary shovel. The difference in this case lies only in the fact that such equipment does not have a handle, and the working plane itself is divided into several teeth. The principle of operation of this type of potato digger is quite simple. The "shovel" prying off a layer of earth just below the location of the tubers and lifting it up. The soil wakes up through the teeth, and the potatoes remain on the surface.
Vibration patterns
Potato digger for this type of MTZ walk-behind tractor is also called screening. The design of vibration models is somewhat more complicated than that of conventional ones. Such equipment consists of three main parts: a knife, a coulter and a grate for sifting the soil. When working, the plowshare goes deep into the ground and cuts off that part of it in which the tubers are located. Next, a vibrating grate comes into play, cleaning the potatoes from the soil. At the final stage, the tubers fall down to the ground. All that remains for the owner of the allotment is to collect them in a bag.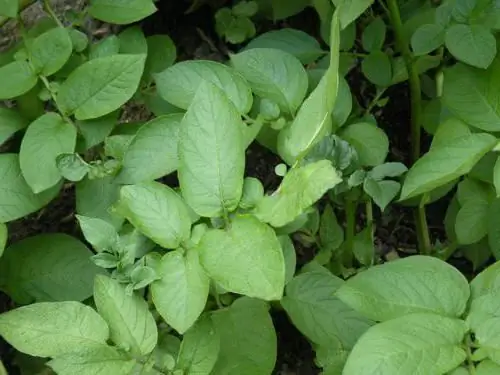 Potato diggers of which manufacturers are suitable for MTZ walk-behind tractors
Most often attachments are used for equipment of this brand:
KM and KKM-1;
KVM-3;

Poltavchanka.
The main technical characteristics of all these models of potato diggers are similar. There is practically no difference in their price.on the market So, a potato digger for the MTZ KM-1 walk-behind tractor costs about 11-12 thousand rubles. The price of the KVM-3 model is 7-8 thousand rubles, and the Poltavchanka equipment is 11-11.5 thousand rubles.
Potato diggers for MTZ: description
Model KKM-1 is a vibration type equipment. It is allowed to use such a digger for harvesting almost any root crops. In addition to potatoes, it can be, for example, beets, onions, etc. The KKM-1 digger is designed to work on light and medium soils.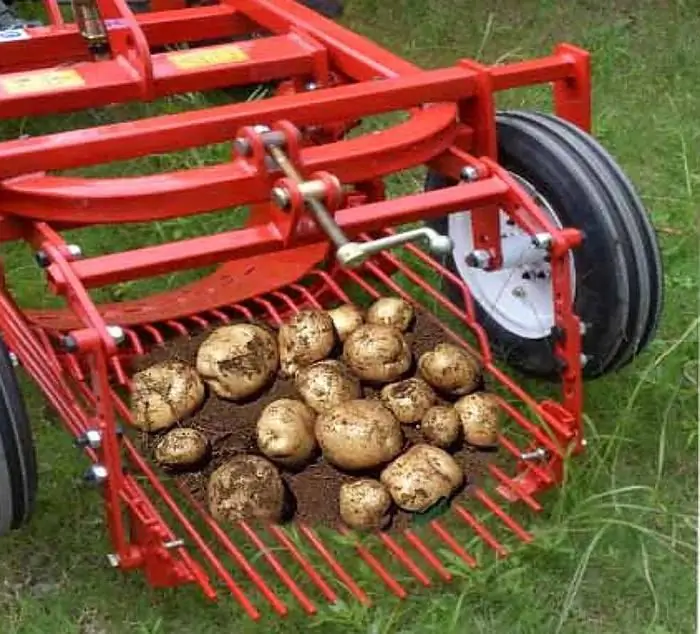 The KVM-3 model is also screening equipment. If necessary, this potato digger can also be used on hard soils. In this case, an additional knife is connected to its main frame.
KM-1 equipment is also designed to work not only on light, but also on heavy soils. When digging tubers on hard ground, this unit is transferred to the second speed.
The screening potato digger for the MTZ Poltavchanka walk-behind tractor is also excellent for processing small areas (up to 2 hectares). It can be used on medium-heavy soils (not too wet). A distinctive feature of the models of this brand is the ability to adjust the wheels.
Specifications
KKM-1 potato digger has:
capture width of 370 mm;
weight 40 kg.
The productivity of this equipment is 0.05-0.2 hectares per hour depending on the type of soil. You can work with such equipment onspeed 1-2 km/h. In depth, the KKM-1 model can cut through the ground up to 20 cm.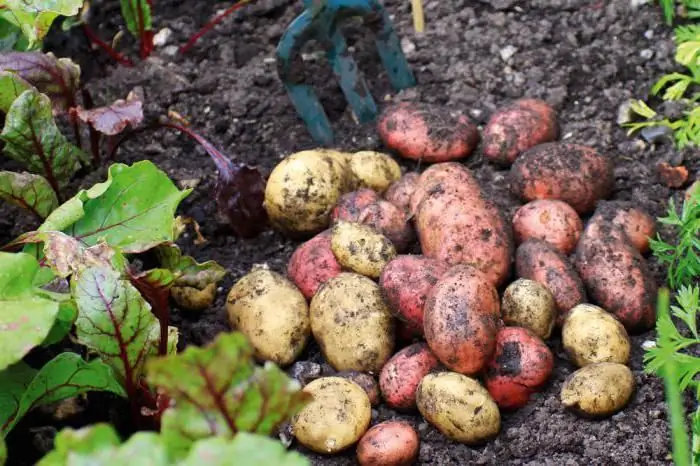 The KVM-3 potato digger weighs about 39 kg. Its productivity is 0.1-0.2 ha/hour. The operating speed of this type of equipment is 1-2 km/h. The width of the soil capture by the KVM-3 potato digger is 370 mm, and the maximum depth is 20 cm.
"Poltavchanka" can move at a speed of 2-3 km/h. Its labor productivity is 0.2 ha/hour. The soil capture width of this model is 390 mm. Digger knives penetrate the ground to a depth of up to 180 mm. The weight of this equipment is 34 kg.
KM-1 models have a working width of 44 cm. The maximum depth of the share when digging with this equipment is 18 cm. Models of this brand weigh 35 kg.
How to choose the right equipment
Of course, when buying a katofelekopalka for the MTZ motoblock, first of all, you should pay attention to its technical characteristics. In addition, you should definitely read the reviews of farmers about a particular model. All the above diggers from the owners of summer cottages are considered reliable and quite convenient to use.
Of course, equipment of this type is quite expensive on the market. But if you wish, you can always buy not a new model, but a used one - from hand. It is not difficult to do this, for example, via the Internet on sites with ads for the purchase / sale of agricultural machinery.
All the above models are excellentsuitable for MTZ of any modifications. KKM-1, KVM-3 or Poltavchanka is an excellent potato digger for the MTZ 09N, 05 Belarus motoblock, etc.
Model Reviews
The main advantage of KKM-1 equipment is considered by the owners of suburban areas to be high productivity. In loose and fairly dry land, judging by consumer reviews, this model goes like clockwork. Digging potatoes from moist soil, as many owners of suburban areas believe, is also possible with its help. But in this case, the model should not be used on too large areas. Otherwise, the equipment may simply break down.
Experienced farmers refer to the disadvantages of KKM-1 potato diggers:
pretty complicated setup;

Possible injury to potatoes at high speeds.
KVM-3 model: reviews
Such a potato digger for the MTZ walk-behind tractor, according to many summer residents, has a very good performance. The KVM-3 models are also praised for their ability to be used on heavy soils, and for their relatively low cost. The disadvantage of this type of equipment is considered to be only a design that is not very convenient for work.
Consumer opinion about Poltavchanka models
Such a potato digger for the MTZ motoblock also deserves very good customer reviews. The owners of suburban areas consider the great power and activity of shaking knives to be the advantage of such models. Diggers "Poltavchanka", according to many farmers, are very easy to use and do not spoil the potatoes. Also thisthe equipment is never clogged with weeds.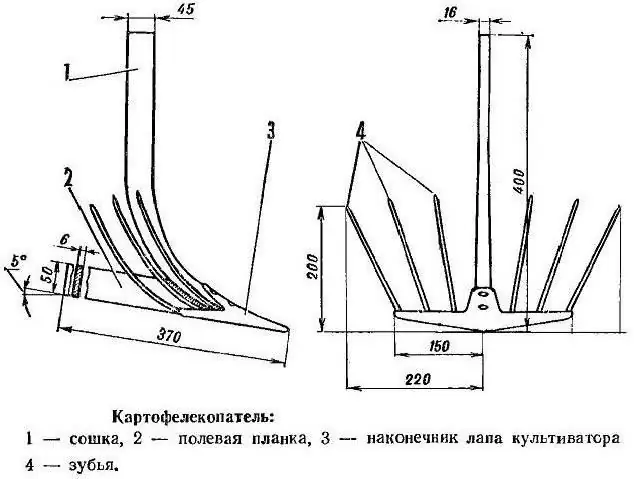 Can a do-it-yourself potato digger for the MTZ walk-behind tractor be assembled
Of course, such equipment, if desired, can be made independently. It is not too difficult to assemble with your own hands both an ordinary digger and a vibration one. For the manufacture of equipment of this type, materials such as a channel, sheet metal, pipes, hardware, etc. are usually used. Also, for assembly, you will need a welding machine, metal shears, a sledgehammer, etc. The easiest way is to make a potato digger using a ready-made scheme. For example, quite inexpensive and easy-to-use models are obtained by applying the drawing presented on this page a little higher.
Popular topic